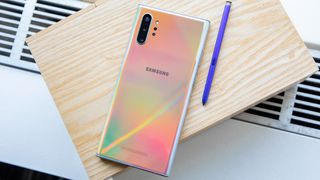 (Image credit: Future)
The Samsung Galaxy Note 20 phones one of the biggest devices coming towards the end of 2020, and with the Galaxy S20 handsets out the way the Notes are the next big releases expected from Samsung.
Other phones we expect to see in 2020:
The Samsung Galaxy S20, as well as the S20 Plus and S20 Ultra, constitute Samsung's first flagship phones of the year, and we'd expect a lot of the tech shown off in them to come in the Galaxy Note 20 phones. The DNA of the Notes might also be affected by the Galaxy Note 10 Lite launched in January 2020, which was the first ever chance to pick up an S Pen stylus phone for cheap, beckoning in a future of affordable stylus phones.
So the potential existence of a Galaxy Note 20 Lite means Samsung has the opportunity to create a truly top-end phone in its 'Plus' model, which could be as big or even bigger than the 6.9 inches of the Galaxy S20 Ultra.
Before the Samsung Galaxy S20 came out we were expecting it to be called the S11, and we were also expecting this phone to be the Note 11, although that seems unlikely now. Saying that, some of the early phone leaks refer to the Note 11, but that's just referring to this handset.
So you can have an idea of what's to come with the Samsung Galaxy Note 20, we've collected every leak we've heard so far. On top of that we've got a wishlist of what we want to see in the Samsung Galaxy Note 20. Since the stylus is so central to the phone's identity, we want to see the S Pen become a true extension of the device: more physical controls, more reason to pull it out of the phone.